Jesus' response to the man born blind moves to reveal him as someone made in the spitting image of the divine. At least that is a playful way to talk about Jesus' actions that answer the question, "What now?"
When he had said this, he spat on the ground and made mud with the saliva and spread the mud on the man's eyes.

John 9:6, NRSV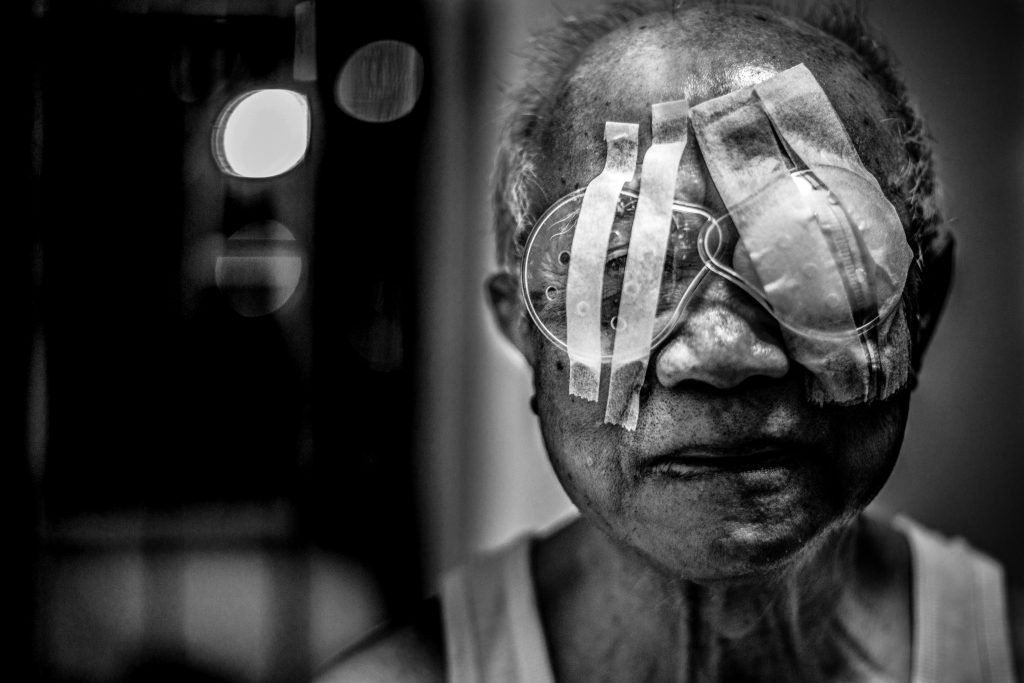 Spitting Image
A quick Google search reveals all kinds of debate over the origins of our colloquial term, "spitting image." The first literary reference to spitting from the sources mouth resulting in an exact likeness appears in 1583.
One of the theories, while linguistically skeptical, caught my attention. It claims spitting image actually evolved from the phrase, "spirit and image." This, coincidently idea aligns with God's creative work and the two most compelling theories on why Jesus used spit.
A Return to Genesis 2
The oldest interpretation of why Jesus used spit harkens back to an influential Second Century bishop named Irenaeus of Lyon. He argued that using spit to form mud or clay links the event back to Genesis 2:7, "…then the Lord God formed man from the dust of the ground, and breathed into his nostrils the breath of life; and the man became a living being" (NRSV).
Some more recent commentators distance themselves from this interpretation because in Genesis, God uses dust not mud. They also point to the lack of spit in Genesis as well as Leviticus 15:8 which declares a person spit upon unclean:
If the one with the discharge spits on persons who are clean, then they shall wash their clothes, and bathe in water, and be unclean until the evening.

NRSV
However, a deeper look into the culture of Jesus' day, including how the Dead Sea Scrolls describe the creation account, strengthens Irenaeus' interpretation. In that cultural time and place, spit regularly appears as part of retellings of the Genesis creation account. For more on this see:
Frayer-Griggs, D. (2013). Spittle, Clay, and Creation in John 9:6 and Some Dead Sea Scrolls. Journal of Biblical Literature, 132(3), 659-670.
So, depending on how we understand it, Irenaeus' spitting image interpretation can fit quite nicely with the ongoing creative work of God. I add the caveat, "how we understand it," because of our ableist tendencies.
Ableism
Ableism is, quite simply, discrimination in favor of able-bodied people. In the instance of the man born blind, ableism identifies his blindness as a disability or deformity that makes him lesser or incomplete. Therefore Jesus continued creative work in his life must include the gift of sight so he can be whole.
However, there is nothing in Scripture to indicate that someone born blind is, in any way, less complete as a human. Accounts of eternity include no more sorrow and no more tears, but not an insistence that everyone will receive sight or hearing. Rather, Jesus' covering the man's eyes with mud leaves him blind. It is as if Jesus says, "You were both created blind and in the spitting image of your Creator."
This is another variation of a typical take on suffering indicating a lack of faithfulness, or in the case of our project, not having an abundant life.
Only after Jesus sends the man to the pool to wash, only after Jesus releases him into the world, that he gains sight. This means that the true problem is with the ableist culture that deems blindness a disability. This brings us to the second compelling theory on why Jesus used spit in his response to the man's blindness.
Clean and Unclean
Previously I quoted Leviticus 15:8 which comes towards the end of five chapters in Leviticus that talk about what is clean and what is unclean. At first, at least in the narrative context, these chapters feel a bit out of place. After all, Leviticus 10 talks about the death of Aaron's sons. Then follows five chapters of God telling Moses and Aaron about what is clean and unclean. Chapter 16 resumes the narrative with God talking "to Moses after the death of the two sons of Aaron" (NRSV).
However, within chapter 10 God tells Aaron that he will, "distinguish between the holy and the common, and between the unclean and the clean" (Leviticus 10:10, NRSV). So, chapters 11-15 are an aside. They are a break in the conversation to expand on one point before moving on with the story. That point is that Aaron and in time his descendants would help the people know the difference between the clean and unclean, the holy and profane, the moral and immoral.
People of faith usually think about the instructions given to Aaron in one of two ways:
They are clear, black and white, timeless, and concrete directions. When used this way they easily become a tool for the ego to judge self and others. Unfortunately, this is how most of Western Christianity operates.
They are guideposts to help people throughout the stages of psycho-social development. Given that God instructs Aaron to distinguish, it seems that, once again, God is inviting Israel to a more complex understanding of faith.
So how do we use these guideposts?
Stages of Development
There are a wide array of proposed psycho-social development models. The images below explore the popular offerings of Erik Erickson and Jean Piaget as well as the lesser-known model of Bill Plotkin. Finally, the theory of spiral dynamics takes this idea and creates space for both individuals and broader societies.
From this perspective, God invites people operating from black and white thinking to take the guideposts and apply them at face value. So in the case of Leviticus 15:8 it means, "Don't spit on people."
But understanding this as spitting on someone makes you bad is unhelpful. Rather, it needs to be clear that spitting on them is not loving towards them. It is disrespectful. It risks the spread of disease. Or, in a simpler way of thinking, it makes them unclean and inconveniences them because now they need to go wash their clothes and remain separate from the community for the rest of the day.
However, as time goes on, it is not the spitting that is the issue but the consequences of the spitting. We begin to base our thinking not on spitting or not spitting, but on respectful or disrespectful. What is loving towards the other person becomes the primary concern.
Jesus and the Spitting Image
Just like it is today, most people considered spitting unclean in Jesus' day. However, there is cultural evidence outside the Bible indicating that the right religious leader could use spit to make the unclean clean. Perhaps this is why, as the story continues, the Pharisees interest focuses on on the blind man's sight, but how Jesus did the miracle. They are concerned that by using spit, Jesus made a religious claim that could usurp their power. For more on this see:
Smith, David (1985). Jesus and the Pharisees in Socio-Anthropological Perspective. TrinJ, 6(2), 151-156.
But for Jesus, the miracle comes in two parts. One for the man and one for the community. Taken together, they both invite the people to move to a new stage of development. It is a stage that takes them beyond asking, "Who sinned?" Instead it invites them to see all people, no matter their ability, as children of God. Jesus reveals the Kingdom of God as not only tearing down division based on race, gender and creed, but one where ability is neither an asset or liability. We are all made in the spitting image of the divine.
Once Jesus enacts this truth, he sends the man to wash.