We are born in the void. We return there even after presence finds us. So how does God light up the darkness? We see it described metaphorically in the Genesis account. Jesus does this work throughout his time on earth. He also invites his followers to participate in it. But how are we to live in to this call to light up the darkness?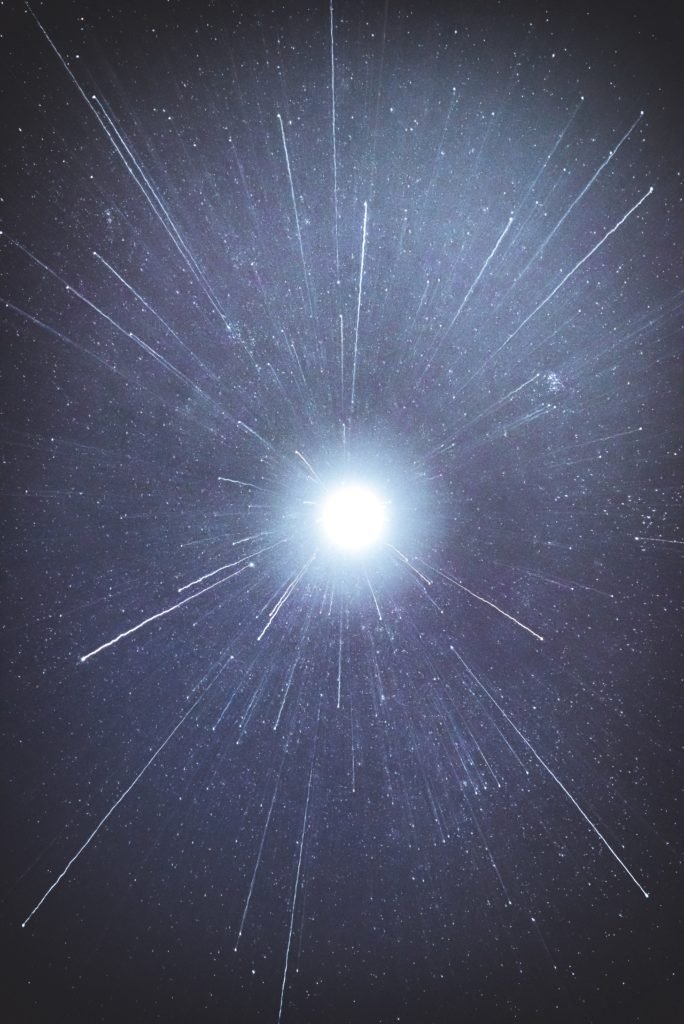 Our brains are hardwired to act in ways that soothe our immediate experience. All too often, the relief is temporary and ultimately draws us further into the void? Most of this experience flows from how our mammalian brains interpret the world. Therefore, I believe the answer is to tell, embody, and help others embrace better foundational stories. To light up the darkness is to change our unconscious perception of ourselves and the world around us. It means creating a default experience of presence, instead of void. In doing so, we give our mammalian brains a new way to live.
Two Kinds of People
Generally speaking, there are two kinds of people in the world. Those brought back from the void as children and therefore have some framework for presence, and those who were not.
This is not the same as people who went to church as kids and those who did not. Nor does it have anything to say about someone's confession of faith. Instead, the story we invite people to embrace at church often presses us into the void. This is true of my experience, both as a child and as one who shared those stories from the pulpit.
A child who experiences love from non-Christian parents has a solid framework for divine love and presence. Someone who grew up hearing hellfire and brimstone is more familiar with the void. At an experiential level, many non-Christians know the loving essence of the Trinity better than many Christians.
The Darkness of Facts Without Story
It is easy to allow the facts of our lives to overwhelm us. Whether it is the things we do or the things done to us. But facts in isolation are not helpful. We can list off all kinds of facts about the life of Abraham Lincoln. But we do not witness the greatness of his presidency until we set those facts in the story of a divided country.
So it is with each of us. It is not until we take the facts and set them in the story that we can begin to see and understand why we behave the way we do. This also identifies the points where we have the power to light up the darkness by rewriting the story of our experience and thus change the undesirable facts of our lives moving forward. This, in part, is what K. J. Ramsey addresses in chapter seven of This Too Shall Last when she argues that the fruit of the Spirit is an integrated pre-frontal cortex.
Expanding on stories and faith, the late theologian Stanley Grenz writes:
Many human scientists have been exploring the thesis that our sense of personal identity develops through the telling of a personal narrative. Hence, finding ourselves means, among other things, finding the story in terms of which our lives make sense. The narrative of a person's life is always embedded in the story of the communities in which the person participates. The community is crucial in the process of identity formation, because it mediates to us the transcending story, bound up with which traditions of virtue, common good, and ultimate meaning, by means of which we construct our own narrative.

Theology for the Community of God, 51
In other words, the Church, the people of God, light up the darkness by tellIng, embodying, and help others embrace better stories.
While the video below is long, it does two things:
It offers a thorough explanation of behavior's biology
It identifies two points where we can change our stories
We Light Up the Darkness by Changing "This" Story
When I say changing this story, "this" is the moment you find yourself in. As the video outlines, it about trying new behaviors in response to the stimuli before you. Whether it is fear of a dog or how you interact with a partner, it is all about creating an exception to the rule.
In my own life, this is a point where I still struggle, and this struggle is the reason behind my second divorce. I found myself caught up in trying to change my grand story. In my mind, if that story changed, if I could light up the darkness there, everything would change.
What I did not realize is that through the years, I grew to respond to my second wife with fear. I assumed judgment and condemnation from her. So even if my larger story changed (which, ultimately, it did), she was still part of the old story.
It took more than a year after she moved out for me to realize I needed to change "our story," and that if I had focused on "our story" and created an exception to the rule, it could have been the model I needed to change my grand story.
Regretfully, I chose a different path. I spent the last two and a half years of our marriage focusing on the bigger picture while ignoring her.
Changing the Grand Story
While the technique in the video above focuses on rewiring the brain at the point of anxiety, the host also identifies changing how you think about everything as a valid intervention point. This is where my journey to recovery began, specifically in terms of faith. Today, this foundational shift describes how I view repentance.
Repentance literally means to change the way you think. It is about changing the grand story you use to interpret the world. This shift is the one Jesus invites us into when talking about giving unto Caesar.
To close here are two ways I repent when it comes to my grand story. One explores where my old story formed. The other is anEaster morning reflection that invites the reader to consider their grand story.
Objects of Wrath vs. the Wrathful Ones
Growing up, the Lutheran church taught me I deserved the pain of being in the void. In our weekly confession to open the service we all declared:
I a poor miserable sinner, confess unto thee all my sins and iniquities, with which I have ever offended thee, and justly deserve thy temporal and eternal punishment.
Essentially we all admitted ourselves to be children deserving divine wrath. In that setting, the pastor announced the forgiveness of sin. After service we would go back into the void until we confessed again the following week.
While not necessarily as explicit, the idea that you deserve the void is rampant throughout the various Protestant traditions. At one end of the spectrum, the Arminian traditions point to people not choosing God and bringing wrath upon themselves. This is a form of meritocracy. Another branch known as Calvinists focuses on everything (including some spending an eternity in hell) is to God's glory. It is interesting how this can also serve as an invitation to victimhood.
Ephesians 2
Whatever the tradition, one of the texts that often shapes these perspectives and one I used to use to defend the Lutheran position comes from Paul's letter to the Church in Ephesus:
You were dead through the trespasses and sins in which you once lived, following the course of this world, following the ruler of the power of the air, the spirit that is now at work among those who are disobedient. All of us once lived among them in the passions of our flesh, following the desires of flesh and senses, and we were by nature children of wrath, like everyone else.

Ephesians 2:1–3, NRSV
There are two problems with this interpretation and the resultant confession.
First, the Apostle uses the past tense. He points to who the people were before they were made "alive together with Christ" (Ephesians 2:5, NRSV). So for us to stand there every week and make that confession, required us, week in and week out, to deny the salvific work God already did in our lives. We confessed ourselves to be what Paul insists we were.
Theology for the Community of God identifies the translation choice the Greek imposes. This is an interpretive choice that significantly impacts the meaning of the text. The Greek word for wrath is in the dative case. Loosely speaking, is either translated with the word "of" preceding it or as a possessive. So the text offers a choice between "children of wrath" or "wrathful children."
Who is Wrathful?
So who is wrathful, God or us? The context makes the answer clear. First, the past tense indicates that the Ephesians experience a change of state from wrath to their present state. Describing their new reality, Paul continues:
But God, who is rich in mercy, out of the great love with which he loved us even when we were dead through our trespasses, made us alive together with Christ —by grace you have been saved.

Ephesians 2:4–5 (NRSV)
Even when we, as those who were dead and in the void, were wrathful towards God and one another, God looked on us with love, mercy, and a desire to fill the void with the divine presence.
As my use of attachment theory reveals, the void is not just a spiritual state or a philosophical construct, but a physiological reality.
A Take on Easter to Light Up the Darkness
As I type this, it is Easter morning. While this should be a day to celebrate God overcoming the void of Good Friday, all too often, what is offered as Christian theology does more to leave us in the void.
In my lifetime I've had two distinctly different and contradictory ways of thinking about the resurrection.
My First Easter Story
I grew up, like most people, hearing that Good Friday was essentially God the Father emptying the wrath tank. All that anger over human sin being unleashed on Jesus so on Sunday the Father could say, "Well I feel better now, how about I raise Jesus from the dead to show everyone I'm safe and loving." And then God thinks, "Now people will love me because if they don't, I'll do to them what I did to Jesus."
But that is not love, it is fear. And if perfect love casts out fear then that's not God. That's the way of Caesar (who also claimed to be the son of god and prince of peace) and used the sword to establish the Pax Romana. That's a faith conquered by the state … this age dominating the one to come.
Easter Today
In contrast to that, today, things get flipped around. Good Friday is all about the very worst of humanity being unleashed on the one who came declaring relentless love. It's all of our fear, hate, violence, rage, and hunger for power on full display. It's us following the way of Caesar. But when Sunday and the resurrection roll around, God says, "No, love wins, and raises Jesus in defiance of Caesar and human spite."
God insists on taking everything ugly and applying love to making it beautiful. It seems impossible at the time, but it was just as true on that Friday as it is in our lives today … be it the ugly you've done to others or the ugly that's been done to you.
That's what I've been unpacking for the past 5 years … starting with my dissertation and continuing with the writing I'm doing today. Some of you see it working itself out on Facebook. Others through conversations at work. Still more here on my blog. Sadly, some have had a front-row seat through the worst of the transition and it's left horrible scars that I have to trust love will heal in time.
It's an entirely different operating system for life. Old patterns, beliefs, thoughts, and ideals no longer work. Of course, if I'm being honest, they never worked. The old ways always lead to that blue screen of death.
This way makes for a much happier Easter!