What do you need to know about me? Well, I'm a recovering Lutheran pastor meeting Jesus on the other side of the pulpit.
About My Backstory
In the summer of 2006, I graduated from Concordia Seminary in St. Louis, MO with a Master of Divinity degree and a bravado that was ready to take over the world for Jesus … at least I claimed it was Jesus.
Truth is, I really wanted to take over the world for me because I thought that somehow if I could do well enough as a pastor, I might eventually be enough as a person.
You see, despite what I showed on the surface, at my core I felt an abject brokenness that made everyday life impossible. Just being was too painful, and since I'd long written off suicide as an option, I had to find other ways to cope with the pain left by an emotionally decimating childhood. Rather than facing this early on, I choose to soothe myself through bravado, a performance fixation, and a sex addiction.
Fast forward to December of 2010. I hadn't taken over the world, rather, I'd brought the world of everyone closest to me crashing down. I wasn't sitting on top, rather I was sitting in a jail cell after an arrest for soliciting a prostitute. In the days to come, my name wouldn't be featured in Christian leadership blogs or as an influential pastor, but it would show up in the local news and sites where you can see the absolute worst side of Christian leaders.
I'd like to say that those days sparked an incredible and instantaneous turn-around in my heart and soul, but that would be disingenuous. However, that event did serve as an impetus for a multi-year journey towards mental, emotional, physical, and spiritual health that continues to this day … and that's how I became I'm a recovering Lutheran pastor meeting Jesus on the other side of the pulpit.
How About Your Story
So there's my story, how about you? Are their hurts that you long to escape from? Maybe regrets? Do you find yourself hiding from your past? Or maybe hoping that nobody finds out about where you've been or what you've done?
Whatever the story, like me, your past is just the beginning. But recognizing that means changing the way you see the world. That's where this site comes in. While this site opens with my story and transformation, it's really an invitation for you to join me in meeting the understanding of Jesus that I found on the other side of the pulip.
Are you curious? Shoot me a message and tell me your story. Sign up for my email list and I'll keep you in the loop as resources become available.
About My Qualifications
I'm actively engaged in a recovery lifestyle that nurtures my mental, emotional, physical, and spiritual health.
20 years of ministry in a diversity of settings with people of all ages
2016 Doctor of Ministry in Leadership and Spiritual Formation from Portland Seminary in Portland, OR (here's a link to my dissertation)
2010 guest professor at the Lutheran Theological Seminary in Pretoria, South Africa
2006 Master of Divinity from Concordia Seminary in St. Louis, MO
1998 Bachelor of Science in Elementary Education with Director of Christian Education certification from Concordia University in Seward, NE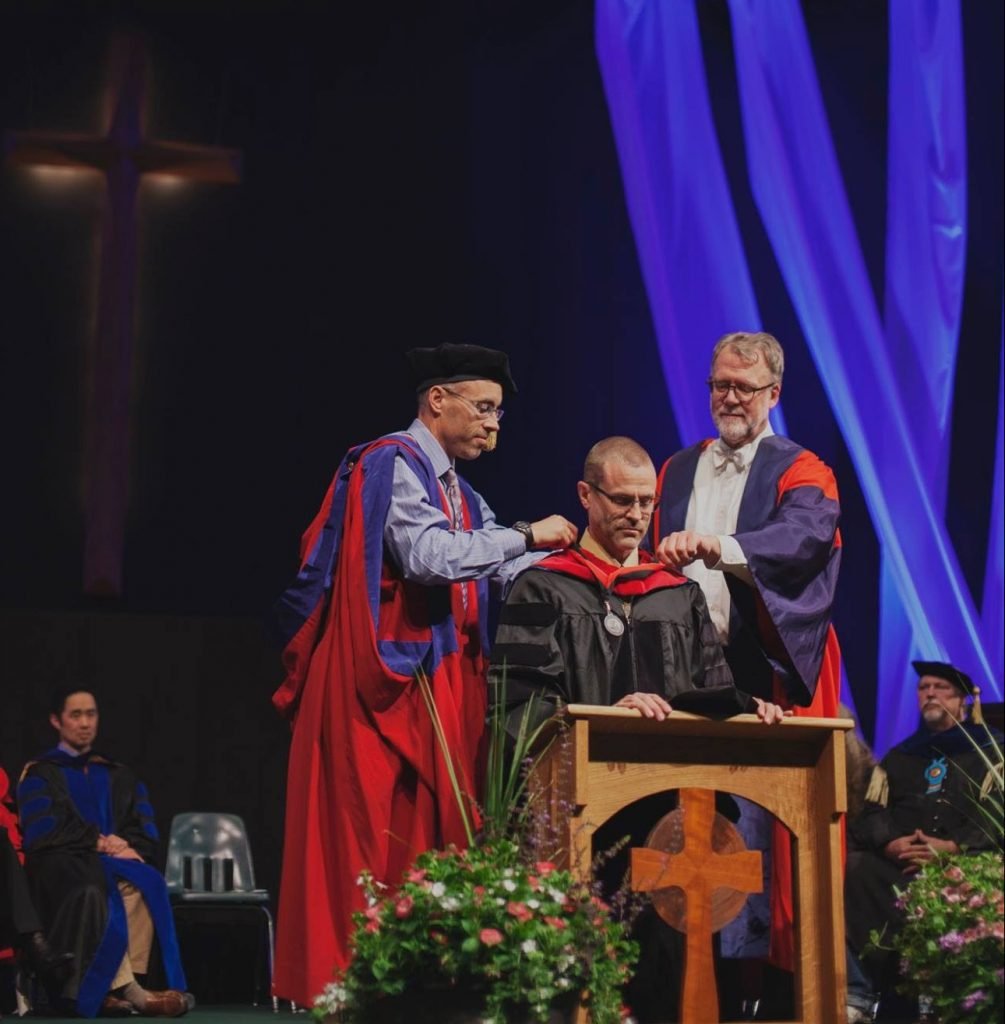 About My Today
I married Kiana in August of 2012. We have one son, Robbie, from my first marriage. Kiana was the prophetic voice in my life that finally called me out of the darkness of addiction. Robbie is my pride and joy. More than anything, I want to father my son into the man I'm becoming rather than the man I've been.
The three of us, along with our two Saint Bernards, live in Denver, Colorado. Together we enjoy road trips, the outdoors, obstacle course racing, and cheering for the Denver Broncos.
What Now?
Not sure what's next? How about signing up for my email list …. there's all kinds of good things in the works.