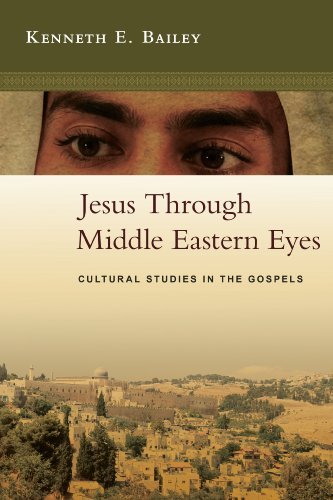 Beginning with Jesus' birth, Ken Bailey leads you on a kaleidoscopic study of Jesus throughout the four Gospels. Bailey examines the life and ministry of Jesus with attention to the Lord's Prayer, the Beatitudes, Jesus' relationship to women, and especially Jesus' parables. Through it all, Bailey employs his trademark expertise as a master of Middle Eastern culture to lead you into a deeper understanding of the person and significance of Jesus within his own cultural…
Jesus Through Middle Eastern Eyes: Cultural Studies in the Gospels, like Kenneth Bailey's other works focus on the culture and context of the Biblical world. This includes:
social dynamics that are foreign to those of us in the West
grammatical structures that build on ancient rhetoric
connections to historical events and other writings that would shape the original audience's hearing of the text
Already an owner of his studies on Luke and 1 Corinthians, I happily bought this book to explore The Parable of the Talents. Immediately, I put it to use as part of my exploration into Jesus' Abundant Life and the meritocracy post.
I was doubly glad I did when writing the inaugural edition of the Abundance Reconstructed newsletter. This time it helped me understand the crowd's reaction to the inauguration of Jesus' ministry in Luke 4.
Both of these uses came within the first week of owning the text. Therefore, I have no doubt this book will be as used and beloved as Bailey's other works:
While Jesus Through Middle Eastern Eyes is not the kind of book you would usually read from front to back, if you want to understand Jesus in context, it is a book that needs to be part of your library.